Create a cross-locality partnership focused on public land:

A cross-city partnership could be formed to help facilitate parcel aggregation and land swaps across Miami's 34 municipalities. This partnership would lead to regular, cross-municipality and inter-agency assessments of publicly-owned property to identify potential mixed-income affordable housing development opportunities in accessible, high-value locations. To facilitate more cross-locality partnership focused on public land, the Land Access Neighborhood Development (LAND) mapping tool visualizes the distribution of local institutional and government-owned vacant, as well as underused properties. Developed by the University of Miami (UM)'s Office of Civic and Community Engagement (CCE), in collaboration with UM's Center for Computational Science, and with support from Citi Community Development, LAND enables policymakers and community-based organizations to identify potential development opportunities for affordable housing in transit-served areas in order to promote equitable and inclusive community development.

Land Access for Neighborhood Development (LAND)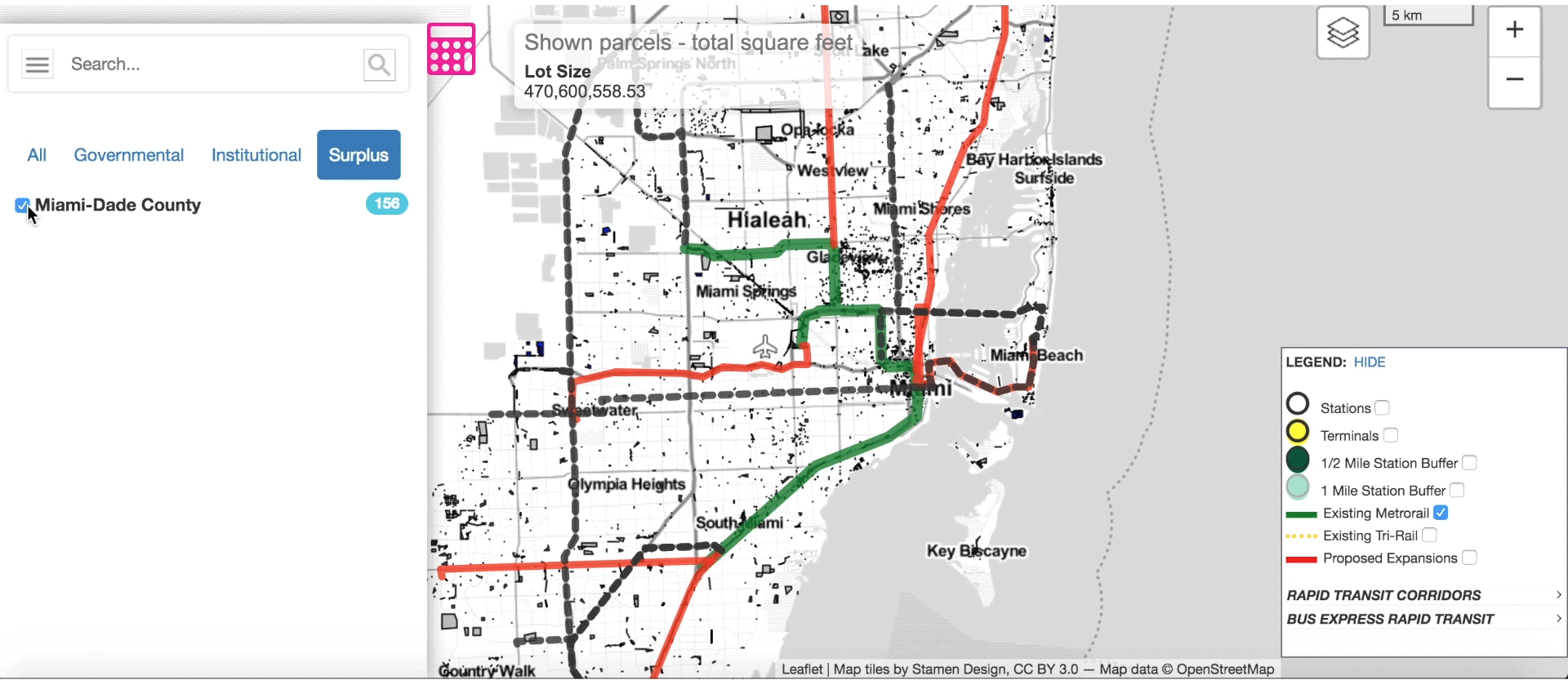 Source: Univeristy of Miami's Office of Civic and Community Engagement, 2018.

Develop School Board-owned land into affordable housing:

The Miami-Dade County School Board has considered redeveloping some of its underused properties into mixed-use developments as a way of generating long-term revenue to boost education spending. The School Board could also examine the opportunities for workforce housing on School Board-owned land, particularly in high-cost and transitioning neighborhoods.

Co-locate affordable developments with public facilities:

Local governments could consider co-locating affordable housing with other public facilities such as parking garages, fire stations, schools, and libraries. In 2009, Carrfour Supportive Housing partnered with the Miami-Dade Public Library System and Miami-Dade County Homeless Trust to co-locate a public library branch in a 76-unit affordable housing development, Villa Aurora, in Little Havana. Other local jurisdictions could also examine the feasibility of building new and redeveloping underused public facilities to include affordable housing.